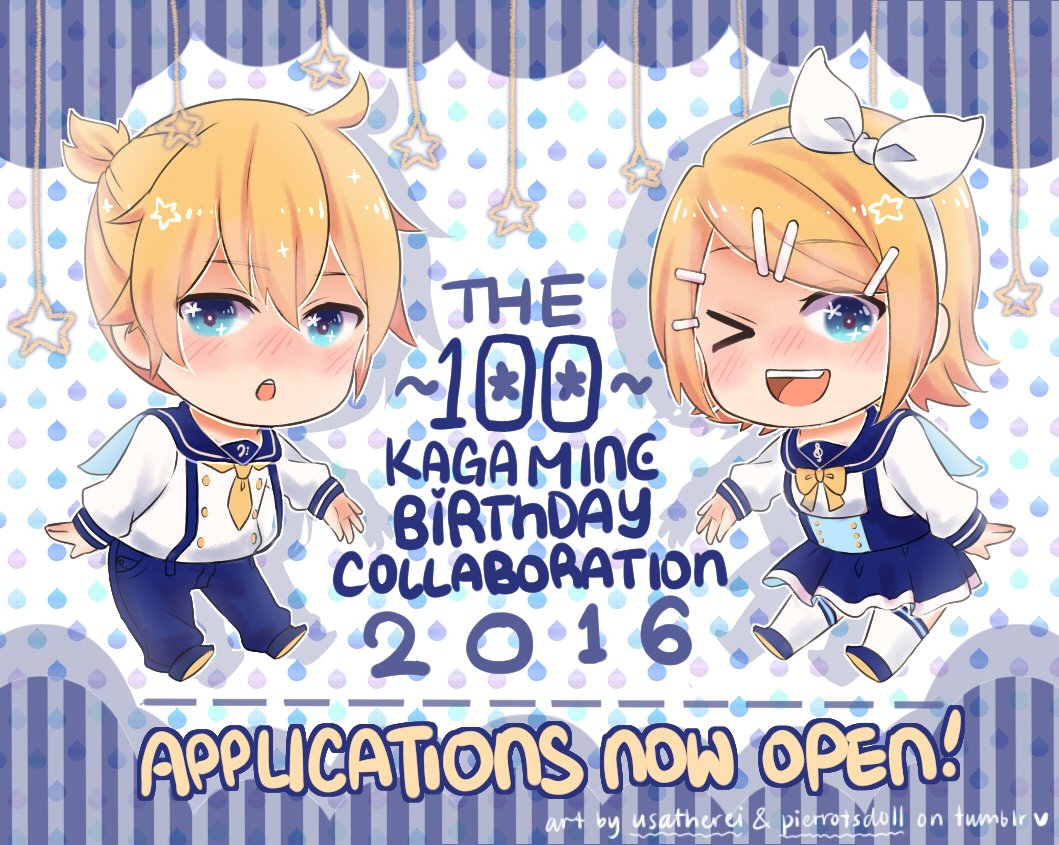 Heyo Kagamination! The 100 Kagamine Collaboration team proudly presents:
The 100 Kagamine Birthday Collaboration 2016!
That's right! We're back for the 3rd year in a row, reuniting all of Kagamine Rin and Len fans through yet again a massive 100 collaboration featuring these two yellow singing angels!
If you are new to the project, you can view our previous birthday collaborations as examples in
2014
and
2015
.
The aim of this collaboration is to recruit 100 artists to draw various versions of the Kagamine(s) as a pair stated in a list where Kagamine songs, modules from Project DIVA and costumes from Project mirai, alternate outfits, CD jacket art etc. are compiled.
You could view this year's list here
((we made a new page dedicated to it complete with images and links to the videos YAAAAS
And finally, everyone's drawings will be compiled onto a huge canvas as one piece and will be uploaded on Rin and Len's birthday (Dec 27th). But do remember this is a first come first serve basis, so be quick! We're now looking for more great artists who can make this project a success!
Some General Rules

The artwork
MUST
have both of the Kagamine(s) in them, and ONLY the Kagamine(s).

Each participant has to draw them both on a
vertical
600x850px canvas.
We do not accept artwork drawn on a horizontal canvas
.

The deadline is
December 20th
. Please make sure you make time or have the time to submit your entry to avoid last minute dropouts!

Full-bodies only! This means no chibis, headshots, bust ups etc. The best example(s) on how your artwork should look like is by looking at our previous final collaborations (2014 and 2015 links provided above).

More
rules
are accessible on our rules page, if you are interested in learning more about them.
How do I sign up?
Drop us an email at 100kagaminecollab@gmail.com with:

At least 3 pieces of your best artworks
OR

Link(s) to your artblog/art tag on tumblr, deviantart account, website or wherever you upload your artwork!
If you've sent an email including either of the above, you would get a confirmation email that will arrive in your inbox within 3 days deciding if your application has been accepted or not! We'll then provide you with the rules and information regarding your part in the collab in greater detail.
Please do keep in mind that your application might not be accepted since we will have LOTS of people wanting to join (we got over 200+ applications last year), so we're going to pick out our favourites from each application batch.
For any other inquiries, feel free to drop us an ask on our tumblr page or contact any of the mods in our fabulous and hardworking team! We'll be looking forward to seeing all your applications, artworks, your enthusiasm and most of all, the final product (in the end)! Let's make this another Kagamine birthday to remember!
~The 100 Kagamine Collaboration team